Allerton Castle, Knaresborough
A fairytale wedding deserves a fairytale venue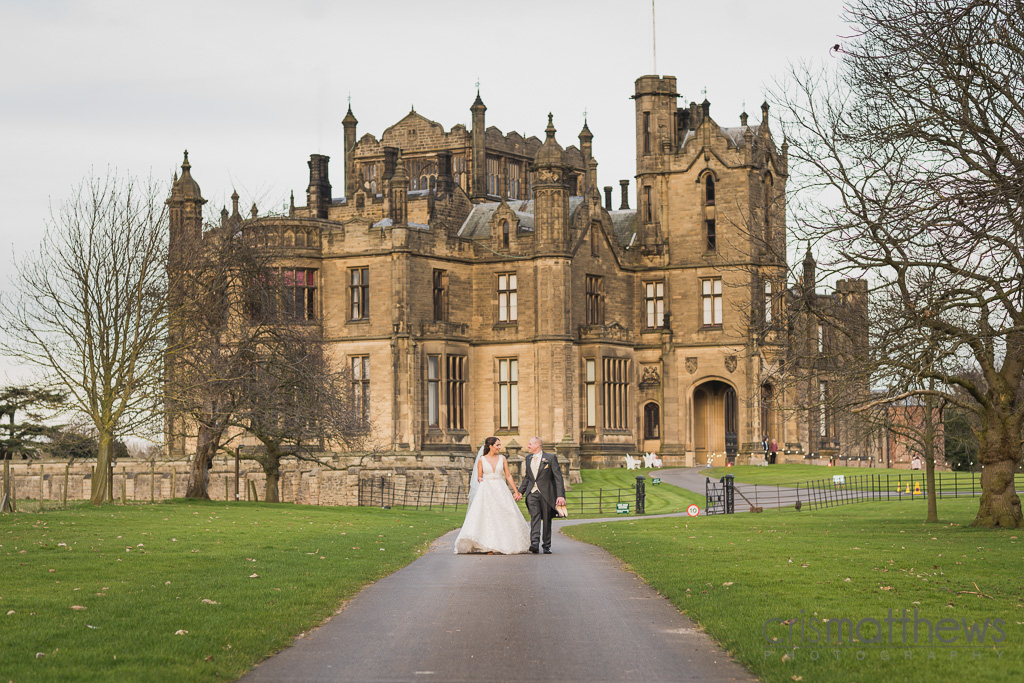 About the venue...
Allerton Castle is an impressive setting for your special day, with spacious grounds and stunning rooms offering a timeless backdrop for your wedding. A gothic revival stately home with magnificent architectural features, this venue has everything you need to make your dreams come true. Surrounded by open parkland, ponds and woodland in the North Yorkshire countryside with grand terraces and gardens.
Welcoming up to 120 guests for your civil ceremony and wedding breakfast and up to 200 guests for your evening reception, Allerton Castle offers exclusive use of its luxurious and unique indoor and outdoor spaces
Allerton Castle is a very special venue to Optimum Fireworks, as we chose it as the venue for our own wedding in April 2018. We are therefore proud to now be the preferred supplier for fireworks at the castle for 2019 and beyond.
Fireworks At Allerton Castle..........
Allerton Castle provides a spectacular backdrop for a firework display. With more space available to us than we could ever dream of, it is suitable for displays of all sizes and styles. You and your guests can watch the display from the hard standing area either side of the main entrance to the castle, providing a perfect photo opportunity during the display.
At Allerton Castle, our recommended starting budget based on travel time is our Sapphire (£1000 inc VAT) package. We can however also offer our Ruby Plus (£850 inc VAT) package on certain dates, please contact us for more details.
Our pyromusical displays have proved the most popular option with our past and current bookings at the venue, with over 80% choosing this option. Starting at our Emerald (£1500 inc VAT) package, a pyromusical display is designed to a song or songs of your choice, providing a memorable moment for you and your guests.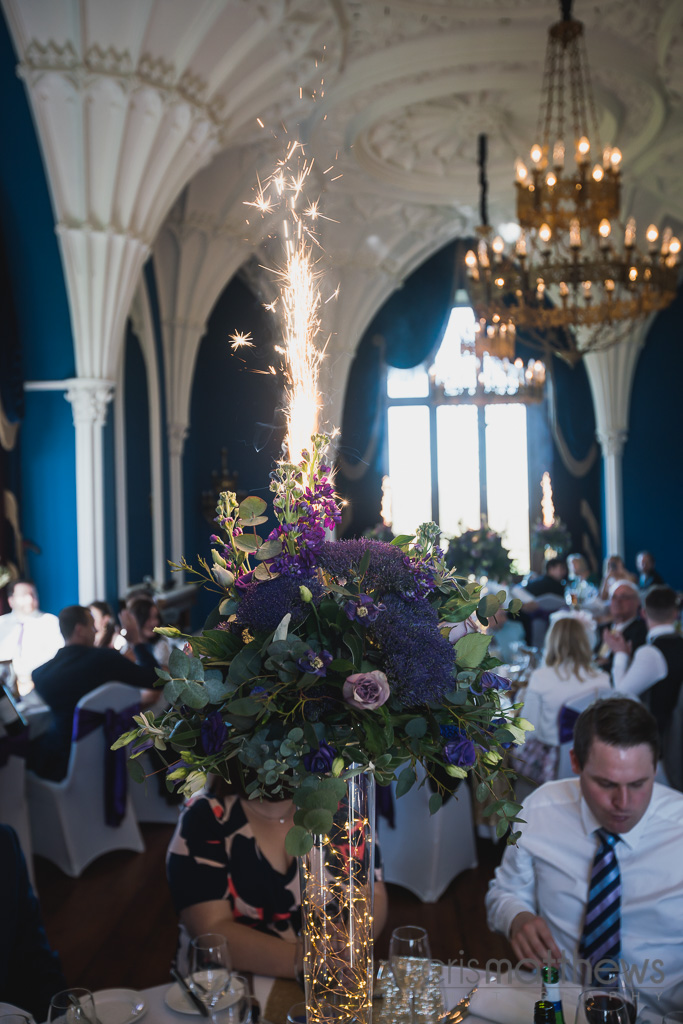 Optional Extras..........
A wide range of our optional extras have proved popular with couples at Allerton Castle, who are looking to add that extra wow factor to their wedding day. Sparklers are a great way to create some fantastic pictures in front of the castle and a perfect way to entertain your guests in the build up to your display. We offer a sparkler service, where we distribute, light and dispose of the sparklers, as well as assisting your photographer to position everyone perfectly.
Another option are our indoor fountains. These are allowed in the Ballroom at Allerton Castle, hidden within floral table centrepiece arrangements and fired remotely on your entrance into the wedding breakfast. A fantastic surprise for all your guests and a great photo opportunity!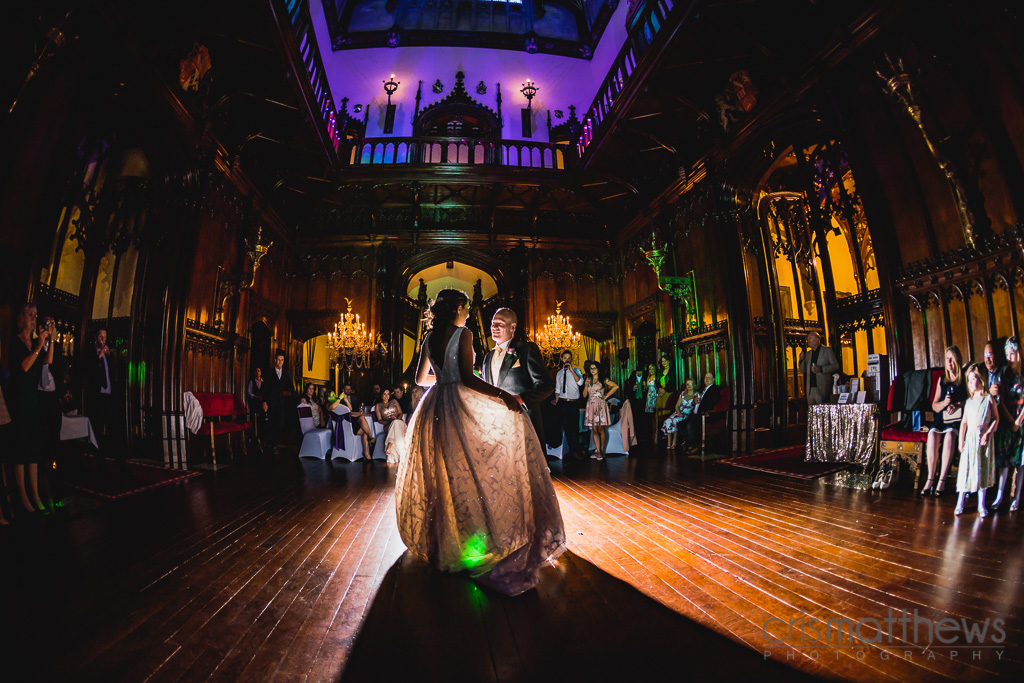 We can also use fountains to provide a spectacular send off at the end of your evening. If you choose not to use the castle's Palace Suite overnight, we can line the driveway with silver fountains, lighting them as your car drives away from the venue. The perfect movie moment!
We have also provided a range of lighting effects for weddings at Allerton. Our LED uplighters can be set to match your colourscheme, lighting both the front of the castle and also the balcony and roof inside, to transform the Great Hall for your evening party. We can also provide festoon lighting, to line the pathway from the carpark up to the venue, to wow your evening guests on their arrival.
The opportunities really are endless! For more information and pricing on any of these options, please contact us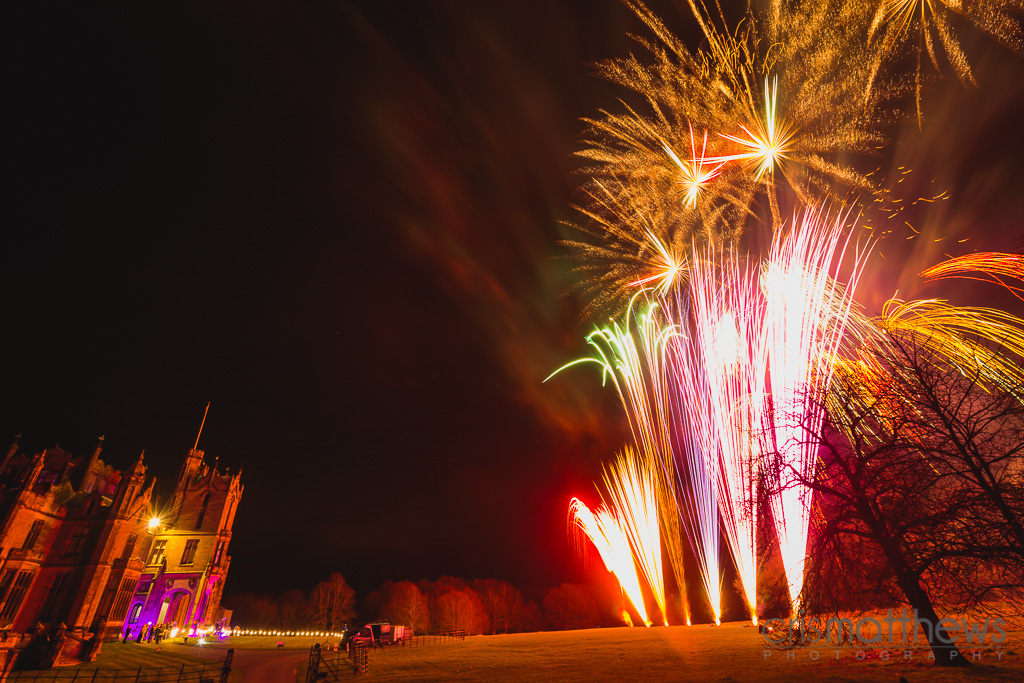 Important Information........
At Allerton Castle, we are lucky to have a huge grassed area in front of the entrance perfect for displays of every scale. Therefore in terms of safety distances and the types of firework used, there are no restrictions. Allerton Castle do ask that all display are concluded by 10:30pm in respect of the local area. We can however fire walkway fountains and other quiet effects after this time for the end of the wedding party.
In terms of indoor effects, Allerton Castle allows the use of our indoor fountains in the Ballroom only, therefore they are perfect for the entrance into the wedding breakfast. We are also able to offer dry ice during the first dance, however unfortunately cannot offer our dancefloor fountains or confetti shots within the main hall.
More Information ..........
For more information about our displays and other services at Allerton Castle, please contact us using the form HERE As we were married ourselves at the venue, we're always more that happy to discuss all things weddings!
For more information about the venue, you can find their website HERE.
We look forward to speaking to you soon to plan your special day!